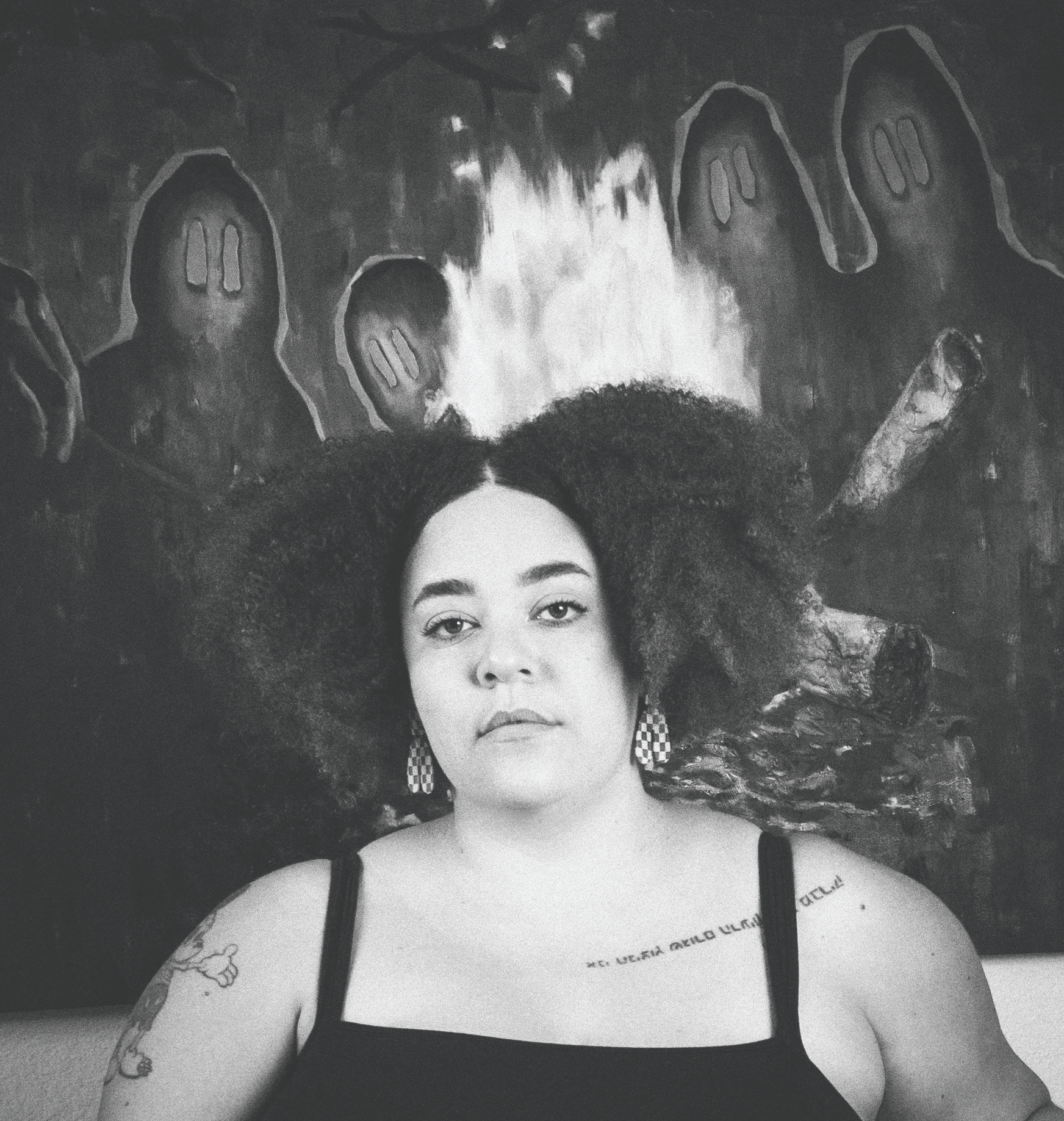 Alexis Hunter is an identity-based, multidisciplinary artist currently living and working in Austin, TX. She earned her BFA from Texas State University in Studio Art, with a concentration in painting, graduating summa cum laude (2022). Recent solo and group exhibitions include BINARY (Who Do You Belong To?), ICOSA Collective Gallery, Austin, TX; Own it, examine it, and confront it head on, DORF, Austin, TX; Collective Thoughts, Antenna Gallery, New Orleans, LA; and SBMRPVII, the Carver Museum, Austin, TX. In 2022, she participated in Big Medium's LINE Residency and vol. 2 of the George Washington Carver Museum's Small Black Museum Residency Project. She also became a member of the artist-run collective, ICOSA, and the newest painting instructor at The Contemporary Austin's Art School at Laguna Gloria. Alexis is the founder of Others, an ongoing publication project documenting the faces and stories of biracial individuals in central Texas. Her work explores self-image through racial identity, mental health, the female body, and the male gaze. 
"I use sculpture, painting, performance, and social practice to constantly push myself to my limits to deliver bodies of work at their most honest and vulnerable state. Throughout my experience making art, I've found that your best work is made when a certain level of comfort is sacrificed. My current project, HAVEN'T I GIVEN ENOUGH???!!, challenges the policing of women's bodies under the patriarchy and the misogynistic history of the world. HAVEN'T I GIVEN ENOUGH??!! is informed by several factors, one of them being my life-long insecurities about my own body and how I see that experience intersect with social constructs like western beauty standards and fatphobia.
My inspiration and references I use in my practice range from literature and 
dissertations like Dr. Karis Campion's, "You think you're Black?" Exp
loring Black mixed-race experiences of Black rejection, 
Ethnic and Racial Studies", to the technique and concepts of 
biracial contemporary artists making their own identity-based work, like Jennifer Ling Datchuk or Sasha Gordon. 
HAVEN'T I GIVEN ENOUGH?!! 
was inspired by kaiju, a Japanese media genre 
involving giant monsters, and movies like, Merian C. Cooper's King Kong, Honda Ishirō's Godzilla, and Nathan H. Juran's Attack of the 50 Foot Woman.  
I'm interested in what happens w
hen you lay yourself and your biggest insecurities bare and witnessed. And the resulting freedom and better understanding of yourself and your identity that follows. My current series features me completely nude. Previously, the only people that have seen me nude are me and my long-term boyfriend. Now my fully nude, unconventionally attractive fat body is being seen by the world. I like to think of it as exposure therapy. After releasing this series, other fat women that look like me have expressed to me th
at they feel seen. There is no comparison for the feeling of fulfillment I get when I'm able to connect to the viewer in this way."
​​​​​​​